The restaurant La Brasa is located in an enviable location: right at the foot of the walled complex of Dalt Vila. In the heart of the Ibizan capital, it offers an oasis of tranquility in an area where the hustle and bustle is commonplace.
Run by Carmen Turró, who has been at the helm of La Brasa for more than three decades, the restaurant has become one of the essential places to eat quality products in Ibiza in a very intimate atmosphere.
The garden terrace: a not secret ingredient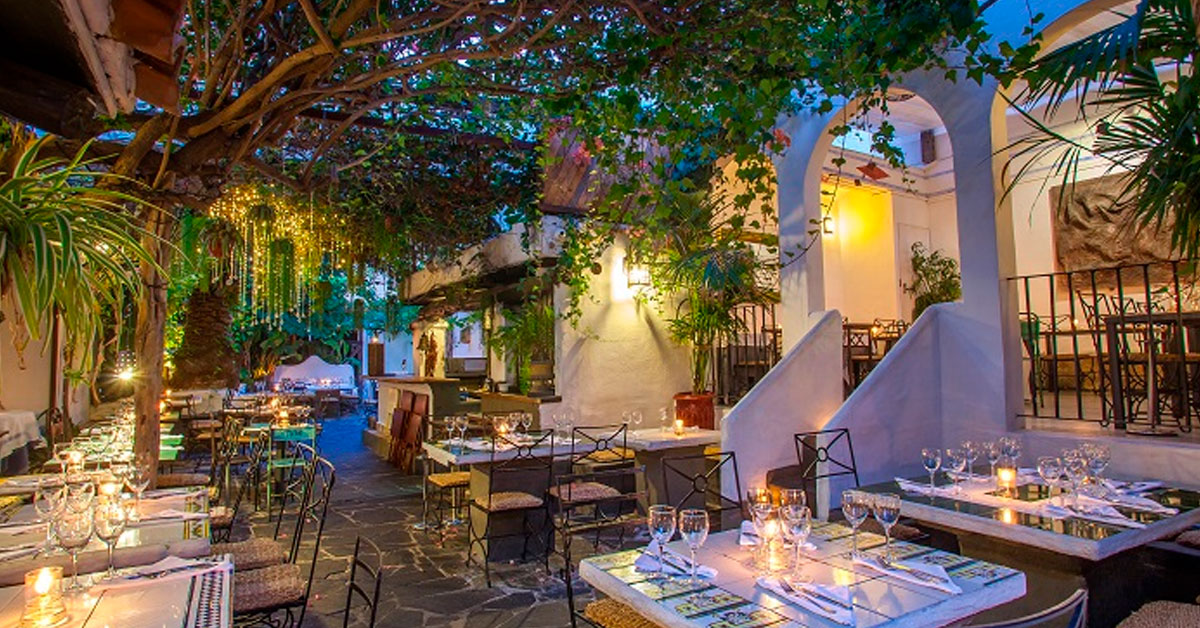 The formula for success of this restaurant in Ibiza lies in the love for traditional cuisine and the raw materials of the area, which combines perfectly with a unique location on the island, an essential ingredient for an unforgettable experience.
Both at lunch and dinner, the carefully chosen decoration and the wonderful garden make La Brasa restaurant the ideal choice for a romantic evening, celebrating a special occasion or simply enjoying its varied menu on any given day.
Rice, meats, cocktails, ... and more. and more!

Simplicity and flavor. That is the common denominator of the varied options that you can find in the menu of the restaurant La Brasa. A homemade and traditional proposal, but without renouncing to the evolution of the current Mediterranean cuisine.
The establishment suggests starting with an appetizer in the form of a cocktail, either a special one of the house, a classic Kirsch Royal or a glass of homemade sangria to start to get your mouth started before tasting the succulent meats, fish and rice dishes.
Starting with the latter, in the restaurant La Brasa you can order from a classic mixed paella to a mellow rice with crayfish and squid from Ibiza. Fresh tuna, cod and skate shine in their fish options.
And, of course, grilled meats could not be missing: from lamb chops to beef tenderloin, through less mainstream options such as duck with plums or leg of lamb.
What about vegetarians?

In addition to the careful setting, its intimate atmosphere and the variety of its menu, in the restaurant La Brasa they have not forgotten the vegetarian options.
Without going any further, in its rice menu the vegetarian paella is the one that opens the section. From the garden you will find delicious "escalivadas" as a starter (eggplants and braised peppers), eggplant croquettes, salads with organic products, ...
But the most remarkable is undoubtedly its specific section of vegetarian options, among which stand out the vegetable carpaccio of zucchini with beets, parmesan and balsamic, battered artichokes and stuffed zucchini flower tempura.
Table reservation at La Brasa restaurant
If you are already looking forward to visiting this oasis in the Dalt Vila area of Ibiza, book your table by calling (+34) 971 30 12 02 or writing to Cette adresse e-mail est protégée contre les robots spammeurs. Vous devez activer le JavaScript pour la visualiser..
You can also find more information in our restaurant directory by clicking on this link.