Carrying the name of one of the most beautiful beaches of Ibiza, Cala Bassa beach Club (or CBbC) is a quiet and exclusive place with simply spectacular views.
The trajectory of this Ibiza restaurant began in 2011 and today it has become a true benchmark of the "beach clubs" of the island. The turquoise waters of Cala Bassa, the forest of junipers that protects it or the high standing service are some of the reasons for its success.
A day at the beach at Cala Bassa beach Club is an unforgettable day: guaranteed!
First quality elaborations with zero KM products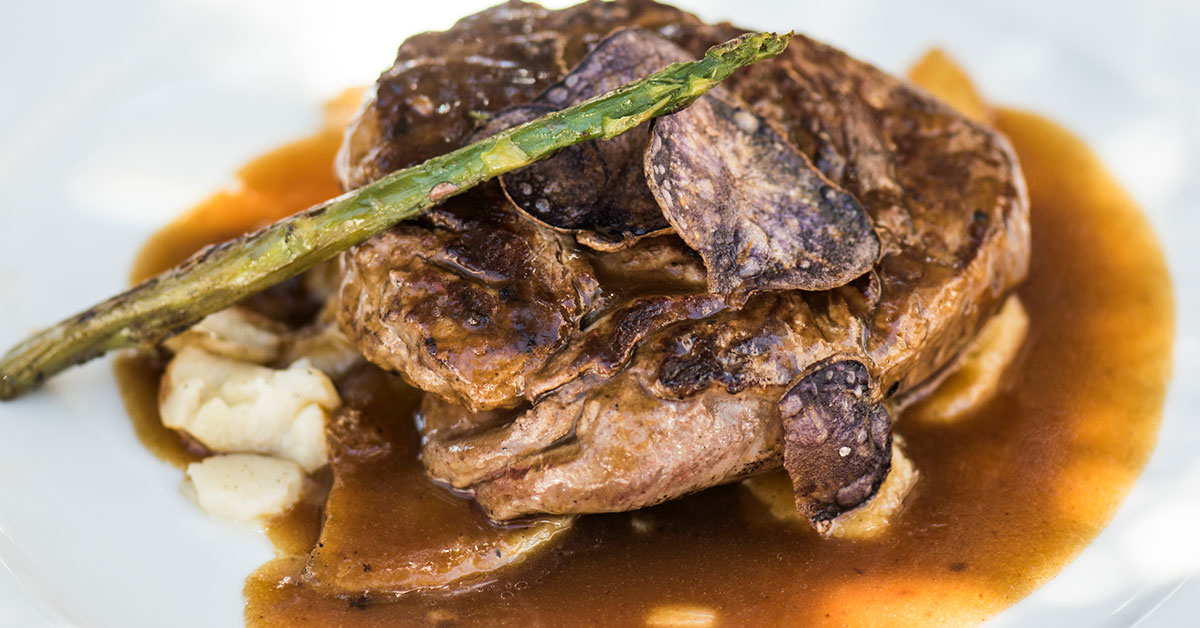 The team of chefs at Cala Bassa beach Club is made up of professionals who love their work and do it with passion. As a result, they have become true experts in creating wonderful dishes with the best raw material of the island, with the zero kilometer product as the main protagonist.
Captivate all your senses is the goal of this restaurant in Ibiza and achieves it through a gastronomic proposal of the highest quality: from the typical (and delicious!) rice dishes or paellas to fresh pasta made in-house, in the menu of Cala Bassa beach Club your next favorite dish is waiting for you.
And, of course, you can pair it with a wide selection of national and international wines and cavas.
One place, five atmospheres, many flavors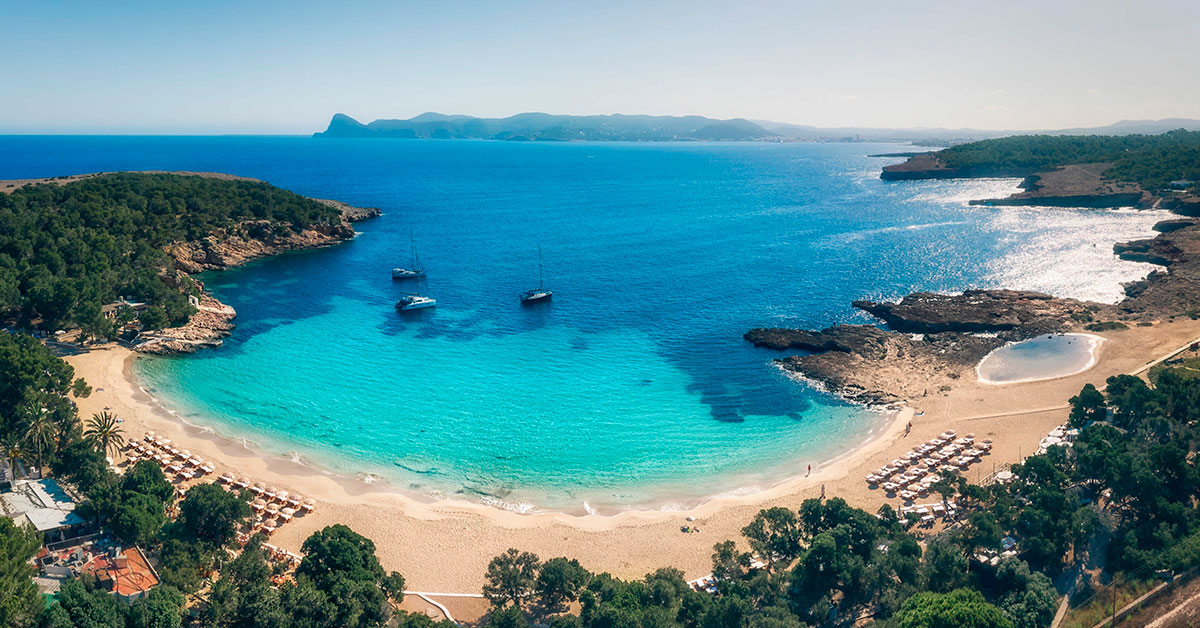 Cala Bassa beach Club has up to 5 different areas and 3 restaurants with a differentiated offer for very different audiences. You can enjoy the best sushi, gourmet or rice dishes in its central restaurant, with "Bullit de peix" in Chiringo or the best cocktails in its VIP area Taittinger Lounge.
If what you are looking for, however, is a quick bite to make the most of your day of swimming, in the Snack area you will find sandwiches and hamburgers. Without skimping on quality you'll have a quick and tasty way to fill your stomach.
Finally, in the Damm area you can relax in the shade of the junipers or enjoy the sunny days of Ibiza.
Events you will remember for the rest of your life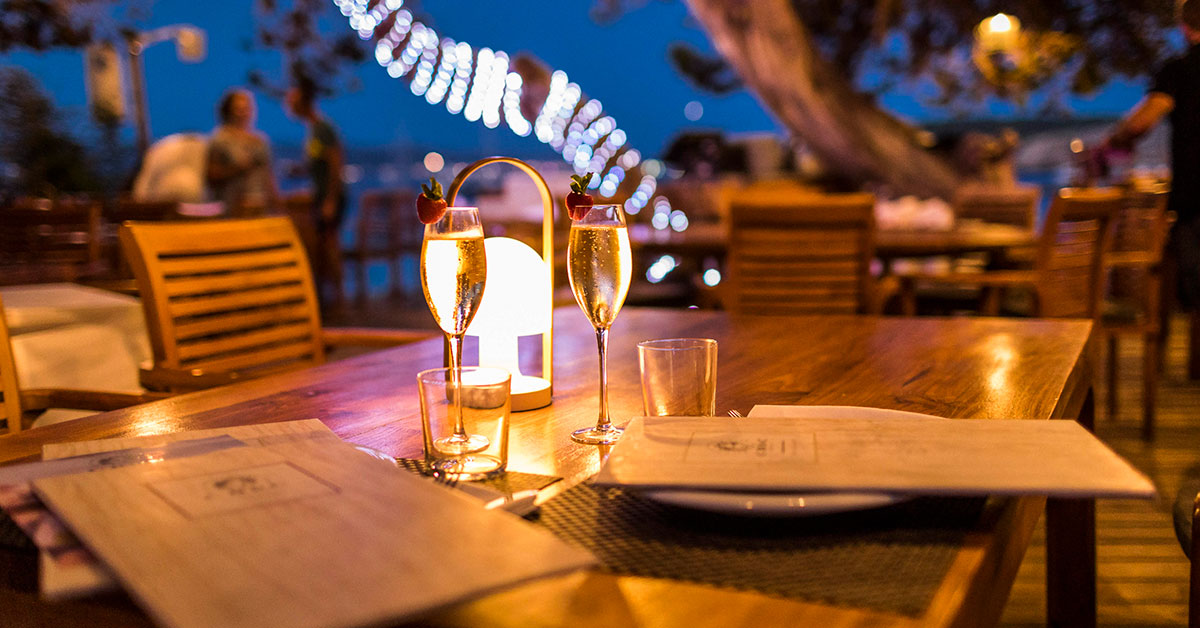 It has been more than clear that Cala Bassa beach Club is one of the most impressive places to eat in Ibiza, right? Well, imagine celebrating a special occasion in such an exclusive location!
A romantic dinner with the Mediterranean Sea in the background, under the light of the full moon. Sounds great, we know... Just like a dream wedding, giving your guests an experience and a precious memory that will last a lifetime.
After all, Cala Bassa beach Club is very close to paradise on Earth.
The formula for success of Cala Bassa beach Club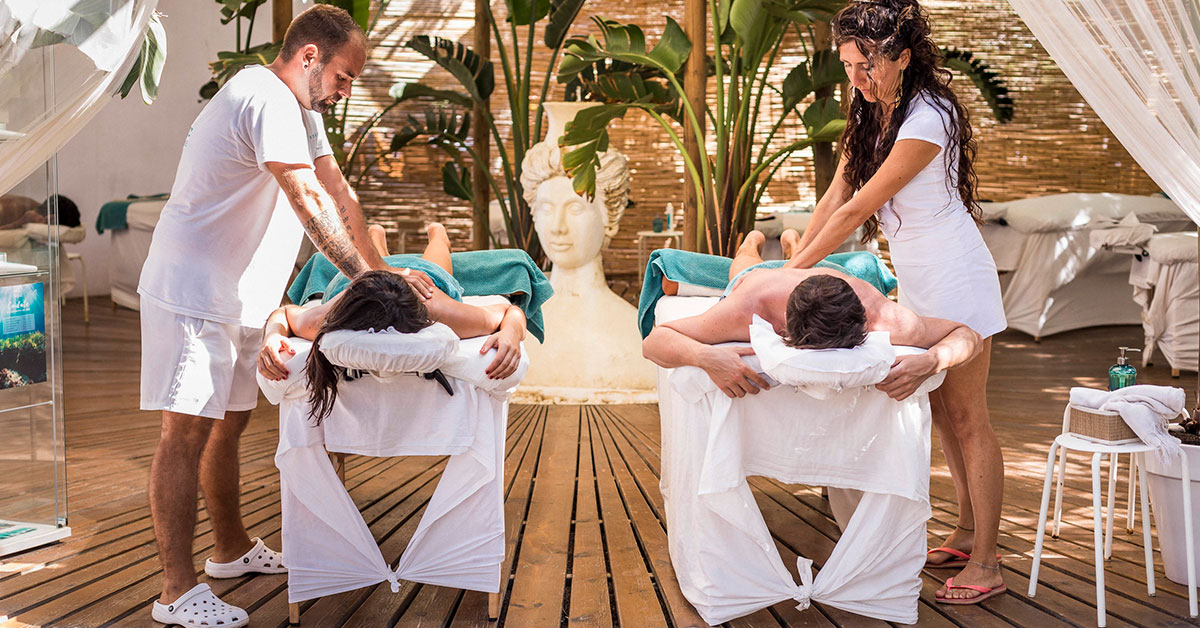 The gastronomic offer of this beach club is reason enough to fall in love with it. However, in this restaurant no detail is left to chance to provide a truly luxurious experience in Ibiza.
The piped music led by the resident DJ of Cala Bassa beach Club prints the island rhythm in a paradisiacal environment, the small stores in the surroundings bring you the most bohemian and chic fashion and its team of masseurs will ensure that you do not remember the stress at any time.
Let yourself be invaded by the unique atmosphere of Cala Bassa: you won't regret it!
Book a table at Cala Bassa beach Club
Open daily from 10:00 a.m. to 8:00 p.m., you can reserve your table at Cala Bassa beach Club throught the website: https://restaurante.covermanager.com/cbbc-group-2/
If you want more information about this or other restaurants in Ibiza, do not miss our guide by clicking on the main menu..